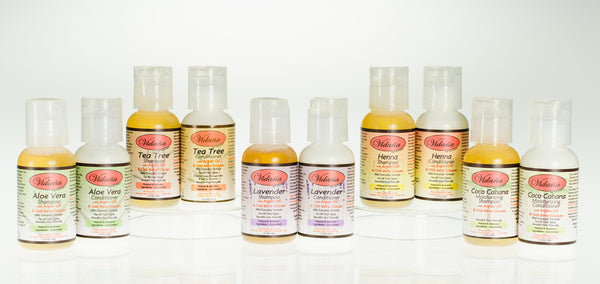 Vidaña Beauty Products
Shampoo & Conditioner Trial Size/Travel Size Collection
If you can't decide on which formula to buy you can try out our whole collection!
You'll receive all 10 of our formulas ( 5 Shampoos & 5 Conditioners ) in our Trial Size/Travel Size Collection.
They are perfect for travel, gym, gifting or just treating yourself.
We know you'll love each and everyone of them!
Vidaña products are made with the best ingredients for all types of hair using only organic and naturals ingredients on our entire blend guaranteed, and never tested on animals or used animal ingredients.
Vidaña
 hair care line - shampoo & conditioner mild formulas gently and effectively clean hair using 100% natural and organic cleaning ingredients such as CP Sweet Blue Lupin Peptides, Oat Beta Glucan, Argan Oil, Organic Aloe Vera Gel and Jojoba Seed Oil that all come from renewable and sustainable vegan sources.
Mild every day formula for All Hair Types, Sensitive Scalps & Damaged Hair
Pamper your hair with Vidaña Shampoo & Conditioner rich in Argan oil and Oat Beta Glucan to nourish your hair.
Natural & Botanical Ingredients Guaranteed.
Phenoxyethanol Free
Paraben Free - Gluten Free