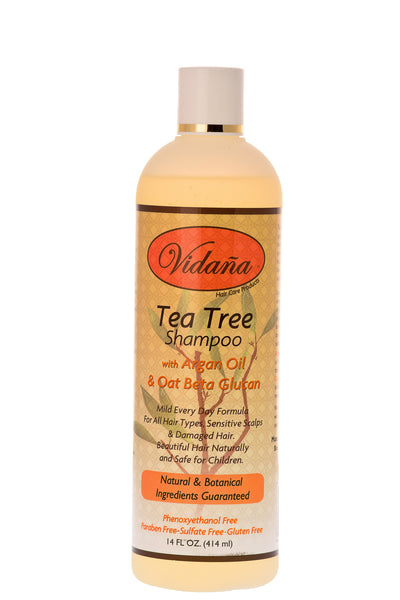 Vidaña Beauty Products
Tea Tree Shampoo
Vidaña products are made with the best ingredients for all types of hair using only organic and naturals ingredients on our entire blend guaranteed, and never tested on animals or used animal ingredients.
Vidaña
 hair care line - shampoo & conditioner mild formulas gently and effectively clean hair using 100% natural and organic cleaning ingredients such as CP Sweet Blue Lupin Peptides, Oat Beta Glucan, Argan Oil, Organic Aloe Vera Gel and Jojoba Seed Oil that all come from renewable and sustainable vegan sources.
Moisturizing Shampoo with Argan Oil & Oat Beta Glucan
Mild everyday formula for all hair types 
Beautiful hair naturally 
• Softens the hair.
• Detangles and decreases frizz.
• Moisturizes.
• Heals and soothes damaged scalp from scratches, burns, dandruff, etc.
• Balances pH level (porosity) of hair.
• Tames oily hair.
• Enhances cellular rejuvenation.
• Anti-inflamatory action for the scalp and generation of hair growth.