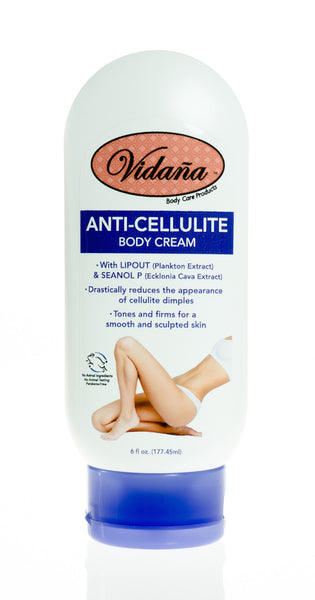 Vidaña Beauty Products
Vidaña Anti-Cellulite Body Cream
WHAT IS IT? It is a anti-cellulite body cream that drastically reduces the appearance of cellulite dimples.  
WHO IS IT FOR? If you are finding yourself dealing with cellulite anywhere on the body Vidana anti-cellulite is the perfect product no matter what kind of skin type you are. 
WHY IS IT DIFFERENT? Vidaña anti-cellulite body cream tones and firms the skin in just 2 months.
Key Ingredients and Benefits. . .      
LIPOUT (PLANKTON EXTRACT):  it is a paraben-free body sculpting product composed of Tisochrysis lutea.
LIPOUT burns stored fat and achieves centimetric reduction.
LIPOUT induces the browning of white adipocyte cultures and stimulates thermogenesis, thus:
-burns fat
-reshapes body contours
-reduces volume
-removes cellulite
-improves elasticity and firmness
SEANOL-P: is an extract of a deep sea brown algae called Ecklonia Cava. It is organic complex of unique aquatic molecules and it contains chemicals that work as antioxidants. These chemicals prevent damage to the body's cells that can lead to cancer and other diseases.
Seanol Benefits: this extract improves circulation because it fights free radicals that are toxic for smooth muscle arterial cells. This is very important because it helps keep arteries relaxed and healthy.
As with all of our products...
No Animal Ingredients

No Animal Testing

No Artificial Colors

No Parabens
Made with love in the USA!