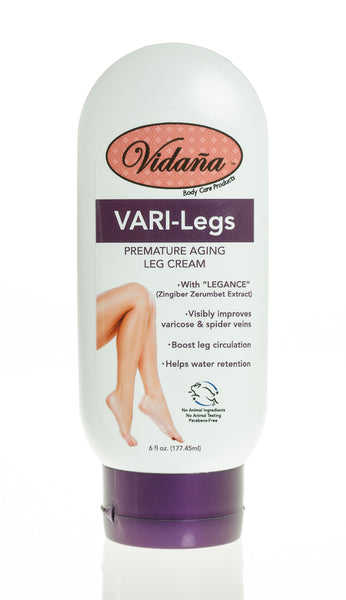 Vidaña Beauty Products
Vidaña Vari-Legs
Regular price
$24.99
Sale price
$12.50
---
 WHAT IS IT?  Vidaña Vari-Legs visibly improves varicose & spider veins, boost leg circulation and helps alleviate water retention in just 2 months.
WHO IS IT FOR? If you are finding yourself dealing with spider veins & varicose veins, want to promote leg health.
Perfect product to make a big difference in your appearance no matter what kind of skin type you are.
 Key Ingredient and benefits. . .      
LEGANCE (BUTYLENE GLYCOL – ZINGIBER ZERUMBET EXTRACT:)  Protects the microvascular environment by limiting the degradation of its structural elements, lessening the inflammation phenomenon and modulating the oxidative stress. Legance acts on the adipose tissue by inhibiting adipocyte maturation, and reducing storage.
SEANOL-P: is an extract of a deep sea brown algae called Ecklonia Cava. It is organic complex of unique aquatic molecules and it contains chemicals that work as antioxidants. These chemicals prevent damage to the body's cells that can lead to cancer and other diseases.
Seanol Benefits: this extract improves circulation because it fights free radicals that are toxic for smooth muscle arterial cells. This is very important because it helps keep arteries relaxed and healthy. 
As with all of our products...
No Animal Ingredients

No Animal Testing

No Artificial Colors

No Parabens
Made with love in the USA!